Wide range of projects
The experiences of our fellow Sofia Justham Bello
15.09.2022 | General, Academic exchange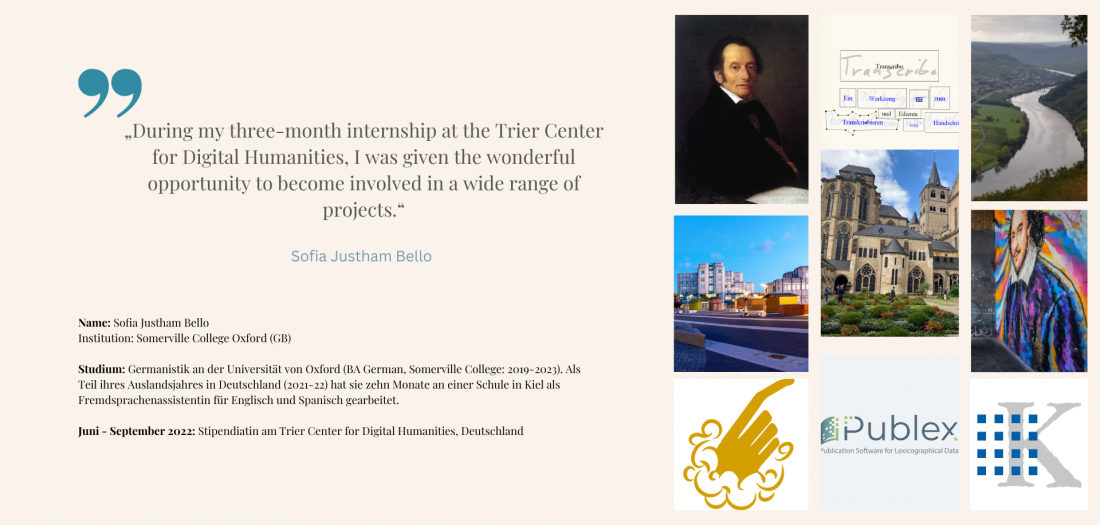 During my three-month internship at the Trier Center for Digital Humanities (June to September 2022), I was given the wonderful opportunity to become involved in a wide range of projects. This culminated in me receiving my own project midway through my time here; transcribing and analysing a collection of letters from Christian Brentano to Clemens Brentano, from the years 1803-1811. Dr Claudia Bamberg supervised my internship, and I am very grateful that she organised such a rich and diverse programme for me during my time here. I began the internship by meeting some of the team at the main square in town to take part in a "Kiosk Aktion": Trier´s Smallest Lecture Room. The TCDH presented various projects on the topic of wine, including a game where the public ranked wine labels according to the year in which they were produced.
In June I learnt about the subject Digital Humanities through taking part in various seminars for masters students taught by Dr Joëlle Weis. This was an invaluable experience as I was able to gain a deeper insight into a subject which was completely new to me before starting the internship. I also attended seminars on the German Romantic translations of Shakespeare's work, taught by Prof. Dr Claudine Moulin and Dr Claudia Bamberg. This was particularly fascinating to me as I grew up in England, where we studied Shakespeare at school; it was very interesting to learn how the German Romantics translated these texts.
I also met with Carolin Geib to discuss her project on the Plock-Bible. I learnt how she transcribed the text online and we discussed the different research areas that she is working on currently in relation to the Plock-Bible. During my first month at the TCDH I also attended a "Kick-Off" Meeting for a new project on the correspondences of the Early Romantic period, and learnt about the tool FuD during a workshop held that day.
Meanwhile, I was also working on various tasks for the Goethe Wörterbuch online under the supervision of Dr Thomas Burch. One task involved ensuring that the articles in the dictionary were linked to the online edition of Faust.
After gaining these invaluable insights into the work at the TCDH I was able to undertake my own research project. I was given 16 unpublished letters from Christian to his brother Clemens Brentano from the years 1803-1811 to transcribe using the tool Transcribo. Students of Dr Claudia Bamberg had begun this project 8 years ago, but the letters needed to be transcribed again and checked for errors and missing gaps. I was given introductions to Transcribo by Radoslav Petkov and Frank Queens. Following this, I worked on transcribing the letters. This was a challenging but extremely rewarding task and I really enjoyed managing my first research project, an opportunity most bachelor students do not get. I will be writing my dissertation on the letters by March 2023, and will hopefully keep working on them beyond my internship.
Lastly, I recently worked with Henrike Sievers to create an informative video in English about Publex, a tool to easily publish digital dictionaries. I worked on a translation of the German text, and we created a voiceover for the English video. This was a lot of fun too since I learnt about another TCDH tool and practised my translating skills.
I really enjoyed exploring Trier in my free time, visiting all the Roman sites and museums. I also visited other beautiful places in the region, such as Saarburg and Koblenz, and went to Luxembourg three times, a country I had never been to before. All in all it was a great internship, and I am very grateful for my time here and very hope we can stay in touch.
---