Teaching and Learning in the Virtual Museum
Digital Humanities Taught Inventively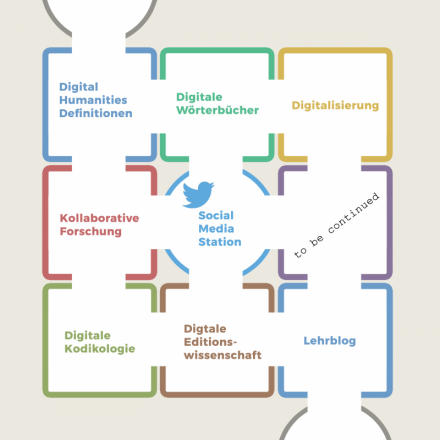 As part of the project, a digital museum was developed that presents the content of the master's course as well as topics, content, projects and tools of the digital humanities in virtual exhibition rooms. In the themed rooms, interactive stations are presented in a virtual way about central objects and debates in the digital humanities: how digital dictionaries differ from printed ones, how cultural assets can be digitized for the purpose of preservation and research beyond time and space, and objects that have not yet been deciphered can be researched collaboratively.
In the Master's program Digital Humanities, which is offered by the subject Computational Linguistics and Digital Humanities in cooperation with the Trier Center for Digital Humanities with the participation of other subjects (Computer Science, German Studies, English Studies, Phonetics, Art History), the project was funded within the framework of the funding initiative "Innovative Teaching" of the former Coordination Office for E-Learning now called "Arbeitsstelle gute und innovative Lehre" (AGIL).
Take a Virtual Stroll through the DH Museum and Learn
The modular museum concept enables additions and continuations of the project in subsequent semesters by expanding the space. In the interests of modern science communication, the themed rooms are supplemented by a social media station, which offers further information on the digital humanities and allows an interactive exchange. Students of the Master's degree in Digital Humanities were significantly involved in the conception of the virtual themed rooms: They were asked to make their own suggestions, develop content independently and actively contribute to the online provision. They got to know different presentation media under professional guidance and were made aware of how to deal with complicated issues. The support of the project via blog posts, tweets or Facebook was expressly desired with regard to modern science communication. As a member of the TCDH staff, Dipl.-Soz. Michael Lambertz was responsible for the web design and the implementation of the CMS and Nicolas Schenk worked as a research assistant on the project.
Visitors of the virtual museum will be provided with an open introduction to the topics and contents via interactive exercises. The projects on offer are not only addressed to the academic community and students within the field, but also to the public.
Team TCDH