Machines and manuscripts: new themed room in the Virtual Museum Digital Humanities is online
Virtual exhibition can be visited permanently
01.09.2016 | General, Project News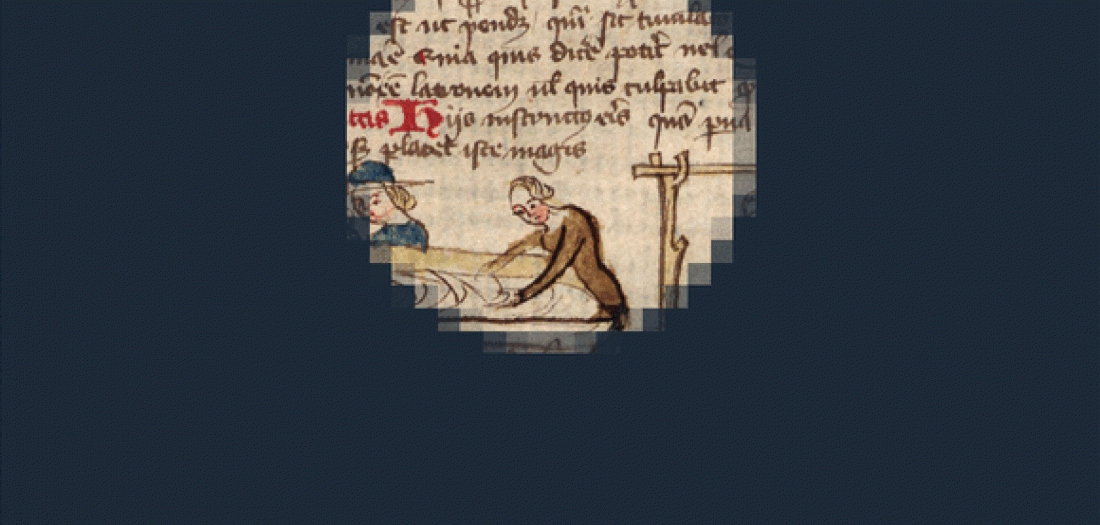 In 2015, the library of the Episcopal Seminary in Trier showed the exhibition "Machines and Manuscripts - Digital Development of the Manuscripts of St. Matthias", which arose from the cooperation project eCodicology. Now the Trier Center for Digital Humanities (TCDH) has set up another themed room in its virtual museum, in which the exhibition can be visited permanently on the Internet.
"Machines and Manuscripts" takes a look at digital codicology, in which conventional methods for examining medieval manuscripts (codicology) are supplemented by computer-aided processes. The explanatory texts and images from the 2015 presentation have been expanded and transferred to a specially designed website, which is now freely accessible to the general public at any time at dhmuseum.uni-trier.de/node/341.
In the virtual museum, after an introduction to the eCodicology project, users are guided through three themed stations. The first station provides basic knowledge about manuscripts. B. explains what a code is, where and how books were made in the Middle Ages, why their pages are artistically painted and what the lavishly designed covers are all about. The second station introduces digital manuscript research and answers questions about the automated examination of medieval books, methods of data analysis and the digital representation of research results. At the end, visitors can expect an interactive quiz on book history, in which they can test their newly acquired knowledge.
The interdisciplinary project eCodicology, in which the Technical University of Darmstadt and the Karlsruhe Institute of Technology were also involved in addition to the TCDH, was funded by the Federal Ministry of Education and Research from 2013 to 2016. It followed on from the digitization project Virtual Scriptorium St. Matthias, which was funded by the German Research Foundation until 2014, which brings together the surviving manuscript inventory of the medieval library of the Benedictine Abbey of St. Matthias in Trier. The TCDH has been running the Virtual Museum for the Digital Humanities since 2015. It serves as a teaching platform, among other things. imparting skills in searching for, processing and presenting information to students at the University of Trier and gives an insight into the work of the TCDH as one of the leading centers of digital humanities in Germany.
---