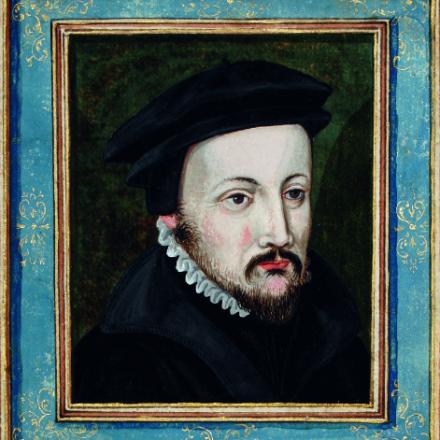 Project Management: Universität Trier - Trier Center for Digital Humanities (TCDH)
Project Participants: Caspar-Olevian-Gesellschaft e.V. · Evangelischer Kirchenkreis Trier · Wissenschaftliche Bibliothek der Stadt Trier · Wissenschaftsallianz Trier e.V. · Universität Trier - Computerlinguistik & Digital Humanities · Universität Trier - Germanistik (Ältere deutsche Philologie)
Sponsors: Universität Trier - Trier Center for Digital Humanities (TCDH), Evangelischer Kirchenkreis Trier, Wissenschaftliche Bibliothek der Stadt Trier, Wissenschaftsallianz Trier e.V.
Running time: -
Contact person (TCDH): Dr Thomas Burch; Prof Dr Claudine Moulin
References:
Caspar Olevian, die Reformation und Trier. - Katalog zur Ausstellung in der Stadtbibliothek Trier zum 500. Reformationsjubiläum 2017 und zur virtuellen Ausstellung im Rahmen des Caspar-Olevian-Portals. Herausgegeben vom Evangelischen Kirchenkreis Trier. Katalog Gunther Franz. Mit Beiträgen von Vera Hildenbrandt und Andreas Mühling.
Research Area: Software Systems and Research Infrastructure, Digital Literary and Cultural Studies
Keywords: Exhibition Concept, Research and Teaching
Website of the Project: Caspar Olevian Portal
On the occasion of the 500th anniversary of the Reformation, in 2017 we looked back on a central event in European history, of which religious, social, political and cultural effects can still be felt today. The city of Trier placed the regional historical focus above all on the reformer of the "second generation", Caspar Olevian (1536–1587), who was born in the Moselle town. The aim of the project was to give the first impetus with the virtual Caspar Olevian portal and digitally guide visitors to the portal along a narrative thread to the life stations and places of activity of Olevian.
The TCDH Shows the Life of the Trier Reformer Virtually
The digital collection of oil paintings, copper engravings, woodcuts, iron etchings, drawings, graphics, photos, medals, manuscripts, prints, letters, certificates and other life documents of Olevian is of particular importance for research as well as for the general interested public. These sources as well as a bibliography give insights into the Olevian research, which was given new impetus in the course of the Reformation anniversary. Although Olevian was one of the outstanding theologians and church organizers from the second half of the sixteenth century, little research has been carried out into his person and his theological work. Interactive maps can be used to take a walk in the footsteps of Olevian through Trier and to follow his life through Germany and Europe. Accompanying texts, photo material and reconstruction drawings always provide further information, for example on important contemporaries with whom Olevian was in contact.
As part of a cooperation project with the participation of the Trier Center for Digital Humanities, the exhibition "Caspar Olevian, the Reformation and Trier" and the accompanying catalog, which the Trier City Library showed from April 7th to July 4th, 2017, was developed. The TCDH developed the Caspar Olevian Portal on the one hand and the exhibition on the other, which will be permanently available to the public free of charge on the Internet even after its end. It was developed by researchers from the TCDH together with students of the Master of Science degree program Digital Humanities at the University of Trier and has been designed and implemented as part of their courses.
Team TCDH