City Campus meets Illuminale: On the trail of Olevian and the Reformation in Trier
TCDH at the City Campus on September 29, 2017.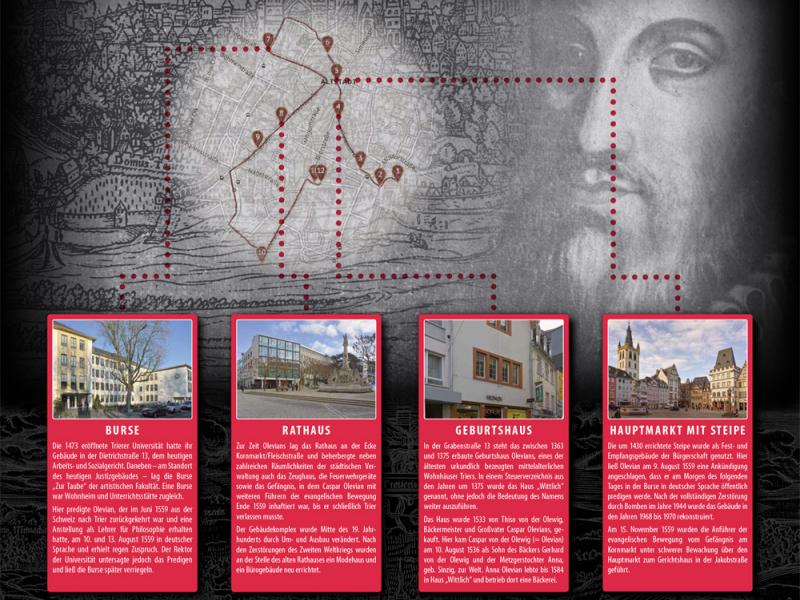 Date:
29.09.2017 bis 29.09.2017
Place:
In addition to the presentation of the freely available theme website, the Trier Center for Digital Humanities (TCDH), together with Trier Tourismus und Marketing GmbH, offers free guided tours at 4:30 p.m. (children's tour, 10 years), 6:00 p.m. and 9:00 p.m. start. The tour lasts around 45 minutes, the number of participants is limited to a maximum of 30 people, prior registration is not necessary. The meeting point is at our booth in the thermal baths at the cattle market.
Categories:
Event
As part of the European Researchers' Night, Illuminale will meet in Trier City Campus on Friday. The TCDH takes you on the trail of the Trier reformer Caspar Olevian.
2017 will be the 500th anniversary of the Reformation. Trier is therefore particularly reminiscent of Caspar Olevian, who was born in what is now the Olewig district in 1536 and who attempted a Reformation in the Moselle town in 1559. Join us on a virtual search for traces in our web portal and discover the places where the Reformer lived and worked in thematic city tours.
Although Olevian was one of the outstanding theologians and church organizers of the second half of the 16th century, little research has been carried out on his person and work. The Caspar Olevian Portal was therefore created under the umbrella of the Trier Science Alliance. The digital exhibition is intended to re-initiate the scientific study of the Trier reformer and to make the general public aware of him.
The Caspar Olevian Portal is a cooperation project of the TCDH with the Caspar Olevian Society, the Evangelical Church District Trier and the Trier City Library.
---