Digital Network of Dialect Dictionaries
Digitization and Networking of Four Dialect Dictionaries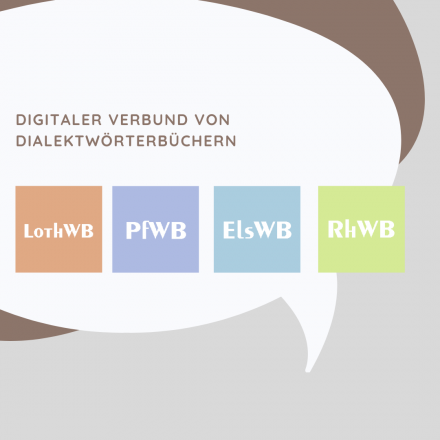 As part of the project, four dialect dictionaries were digitized and published online in a networked form. The ideal starting point for the association was the "Palatinate Dictionary", the youngest of the four dictionaries, which was partially machine-readable at the beginning of the project and, above all, places obligatory references to the adjacent dictionaries where they contain a corresponding key word. The network of dialect dictionaries was then also linked to the "Middle High German Concise Dictionary" by Matthias Lexer. References to the first edition of the "German Dictionary" by the Brothers Grimm were also implemented as hyperlinks. This way standard-language access to the dialect vocabulary is also possible. A language mapping carried out on the basis of the existing dictionary material also results in points of contact with dialect geography. The area of ​​the vocabulary can be documented more clearly than before using digital maps based on the location points recorded in the dictionaries.
A general overview of the vocabulary of the West Central German dialect area is made considerably more difficult by the fact that each of the dictionaries has its own history and structure and the form and arrangement of the keywords in the individual reference works are designed quite differently. A digital network of dictionaries, in which the key words are linked and references between the works are shown in the form of hyperlinks, enabled this general overview of the lexicon of the area in 2007 and at the same time laid the foundation for the realization of a "digital dictionary of regional varieties of German".
With the dialect dictionary network, an innovative tool for researching the German dialect landscape has been created, which can be supplemented with further reference works.