Conference: The Shakespeare Translations of August Wilhelm Schlegel and the Tieck Circle. Context - History - Edition
in cooperation with the Commission for the Edition of Texts since the 18th Century in the Working Group for Germanic Edition and the Saxon State Library - Dresden State and University Library (SLUB)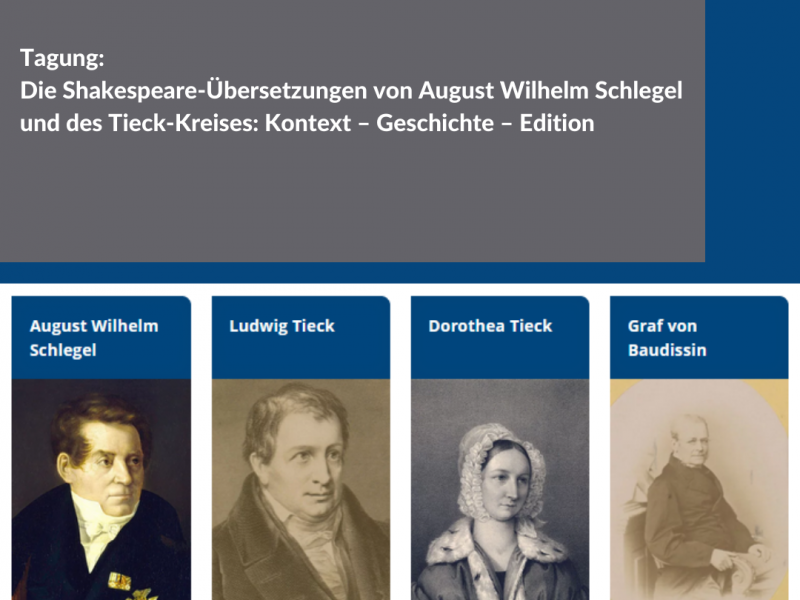 Date:
13.06.2022 bis 16.06.2022
Place:
in Dresden, Klemperer Hall,
Saxon State Library - Dresden State and University Library (SLUB),
Zellescher Weg 18, 01069 Dresden
Supporting program at Pillnitz Palace
Categories:
Conference
Organization: Claudia Bamberg, Christa Jansohn, Stefan Knödler
The translation of all of William Shakespeare's plays that has become known as "Schlegel/Tieck" - begun in 1797 by August Wilhelm Schlegel and continued in the 1820s by Ludwig Tieck, his daughter Dorothea, and Wolf Heinrich von Baudissin - has become a classic text in German literature.
The conference aims to reassess these translations by asking about their contexts: about the conditions, theory, and practice of translation; about their significance within the early Romantic program; and about the concept of a "Romantic-poetic" translation. In addition, the differences in the procedures of August Wilhelm Schlegel and the Tieck circle, respectively, and finally the intensive reception up to the present will be presented and discussed; the question will also be addressed as to how the "Schlegel/Tieck" can most sensibly be edited historically-critically today, which requirements must be observed in the process, and which digital procedures must be used in such an urgently needed edition. A conference volume is planned.
Image references:
Portal page (from left to right):
August Wilhelm Schlegel (1767-1845).
Portrait. Oil on canvas by Adolf Hohneck (1810-1879), c. 1830. 67.5 × 58 cm. Saxon State Library - State and University Library
Dresden Photo: Regine Richter SLUB Dresden and https://de.wikisource.org/wiki/Datei:August_Wilhelm_von_Schlegel.png
Ludwig Tieck (1773-1853)
www.shakespearealbum.de (April 2014, ed. Christa Jansohn in cooperation with the Mainz Academy of Sciences and Literature, Theater Collection of the University of Cologne, and the Shakespeare Library, University of Birmingham), http://www.shakespearealbum.de/biographien/ludwig-tieck.html
Dorothea Tieck (1799-1841)
Portrait with facsimile motto and signature. Lithograph by Franz Seraph Hanfstaengl (1804-1877) after drawing, 1838, by Auguste von Buttlar (d. 1857). Sheet 34 × 27,5 cm. Berlin, collection Archiv für Kunst und Geschichte. Image number: AKG286503 Collection: akg-images, https://www.akg-images.de/archive/-2UMDHUK6I9YM.html
Wolf Heinrich Friedrich Karl Graf von Baudissin (1789-1878).
www.shakespearealbum.de (April 2014, ed. Christa Jansohn in cooperation with the Mainz Academy of Sciences and Literature, Theater Collection of the University of Cologne, and the Shakespeare Library, University of Birmingham), https://www.shakespearealbum.de/biographien/wolf-heinrich-friedrich-kar…
---