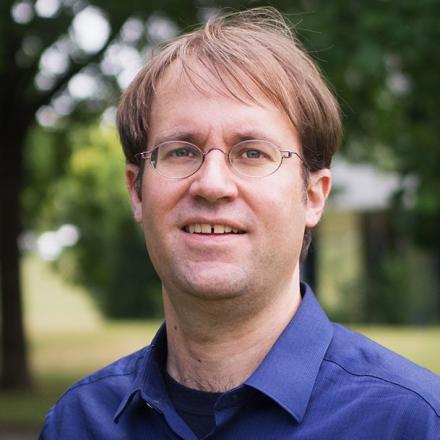 Prof Dr Christof Schöch
director
Christof Schöch heads the TCDH together with Claudine Moulin and the two managing directors, Claudia Bamberg and Thomas Burch. He sees himself as a Digital Humanities scholar with a focus on Computational Literary Studies. He is also committed to Open Science.
---
Curriculum Vitae
Degree in Romance and English Studies as well as Psychology in Freiburg and Tours with a thesis on François Bon
2008: doctorate in French Literary Studies with a thesis on La Description double dans le roman français des Lumières 1760-1800 (binational doctorate Kassel / Paris). His thesis was published by Classiques Garnier and received the Prix Germaine de Stael 2010 Award. 
2004 - 2011: research assistant in French Literature at the Institute for Romance Studies at the University of Kassel
2011 - 2017: member of staff at the Department of Computer Philology at the University of Würzburg, initially as part of DARIAH-DE (Digital Research Infrastructure for the Arts and Humanities), later as the head of the BMBF Research Group Computer-aided literary genre stylistics
2017: W3 professorship for Digital Humanities at the University of Trier
Committee work, research groups and memberships
(selection; see also the list of committee activities on the personal homepage .)
Vorstandsvorsitzender, Verband Digital Humanities im deutschsprachigen Raum (DHd-Verband, seit 2018)
Mitglied des NFDI4Culture Steering Board (als Vertreter des DHd-Verbands, seit 2020)
Mitglied des Fachbereichsrats, Fachbereich II der Universität Trier (seit 2020)
Vorsitzender des Programmkomitees, Jahrestagung des DHd-Verbands 2020 in Paderborn (DHd2020, 2019-2020).
Mitglied des wissenschaftlichen Beirats, Department Wissen-Kultur-Transformation der Universität Rostock (seit 2019)
Mitglied des wissenschaftlichen Beirats, forText. Literatur digital Erforschen (seit 2018)
Mitglied und Sprecher, "Associate Organization Forum" der European Association for Digital Humanities (EADH, seit 2016)
Chair des Infrastrastructure Committee, Alliance of Digital Humanities Associations (ADHO) und ex officio Mitglied des Steering Committees von ADHO (2015-2019)
Koordinator, Arbeitsgruppe "Digitale Romanistik" im Deutschen Romanistenverband (DRV, 2014-2019)
Vorsitzender, romanistik.de e.V. (2011-2019)
Scholarships and Awards
Prix Germaine de Stael, 2010 (for the dissertation)
DAAD annual scholarship (for a stay in France)
Scholarship from the German National Academic Foundation (during his studies)
Publications
(Auswahl; siehe auch die vollständige Publikationsliste auf der persönlichen Homepage./ Selection; see also the complete list of publications on the personal homepage.) 
Schöch, Christof, Maria Hinzmann, Julia Röttgermann, Katharina Dietz, und Anne Klee. 2022.

"Smart Modelling for Literary History". International Journal of Humanities and Arts Computing  (IJHAC) 16 (1): 78–93.

https://doi.org/10.3366/ijhac.2022.0278

.

Schöch, Christof, Frédéric Döhl, Achim Rettinger, Evelyn Gius, Peer Trilcke, Peter Leinen, Fotis Jannidis, Maria Hinzmann, and Jörg Röpke. "Abgeleitete Textformate: Text und Data Mining mit urheberrechtlich geschützten Textbeständen." Zeitschrift für digitale Geisteswissenschaften (ZfdG) 5 (2020).
Schöch, Christof. "Zeta für die kontrastive Analyse literarischer Texte. Theorie, Implementierung, Fallstudie." In Quantitative Ansätze in den Literatur- und Geisteswissenschaften. Systematische und historische Perspektiven, edited by Toni Bernhart, Sandra Richter, Marcus Lepper, Marcus Willand, and Andrea Albrecht, 77–94. Berlin: de Gruyter, 2018.
Schöch, Christof. "Quantitative Analyse." In Digital Humanities: Eine Einführung, edited by Fotis Jannidis, Hubertus Kohle, and Malte Rehbein, 279–98. Stuttgart: Metzler, 2017.
Schöch, Christof. "Topic Modeling Genre: An Exploration of French Classical and Enlightenment Drama." Digital Humanities Quarterly 11, no. 2 (2017): §1-53.
Evert, Stefan, Fotis Jannidis, Thomas Proisl, Steffen Pielström, Thorsten Vitt, Christof Schöch, and Isabella Reger. "Understanding and Explaining Distance Measures for Authorship Attribution." Digital Scholarship in the Humanities, 2017.
Schöch, Christof. "Ein digitales Textformat für die Literaturwissenschaft. Die Richtlinien der Text Encoding Initiative und ihr Nutzen für Textedition und Textanalyse." Romanische Studien, no. 4 (2016): 325–364.
Herrmann, Berenike, Karina van Dalen-Oskam, and Christof Schöch. "Revisiting Style, a Key Concept in Literary Studies." Journal of Literary Theory 9, no. 1 (2015): 25–52.
Schöch, Christof. "Big? Smart? Clean? Messy? Data in the Humanities." Journal of the Digital Humanities 2, no. 3 (2013): 2–13.
Talks
(Auswahl; siehe der Bereich Vorträge auf der persönlichen Homepage./ Selection; see the lectures area on the personal homepage.)
"Wiederholende und wiederholbare Forschung in den Digital Humanities" (Abendvortrag). Workshop Das digitale Bild – Methodik und Methodologie: fachspezifisch oder transdisziplinär?, org. Hubertus Kohle und Hubert Locher. Philipps-Universität Marburg / DDK – Bildarchiv Foto Marburg, 12.–13. November 2020.
"Current Challenges in Computational Literary Studies" (Keynote). CDH 2020. Benevolence and Excellence: Digital Humanities and Chinese Culture. Shanghai Library, October 20-21, 2020.
"Repeating and Repeatable: Distant Reading between Past and Future" (Keynote), DH_Budapest 2019, Budapest, September 25-27, 2019.
"What's in a number? Understanding Measures of Distinctiveness" (Eröffnungsvortrag), European Summer University in Digital Humanities, org. Elisabeth Burr, University of Leipzig, Germany, 18.7.2017.
"Repeating and Repeatable: Digital Literary Studies between Past and Present" (Keynote), Interroger le texte à l'ère de l'intelligence mécanique : la stylistique outillée, au carrefour du disciplinaire et de l'interdisciplinaire, Montpellier, France, June 11-12, 2019.
"Towards a Resarch Agenda for Data-driven Approches to Literary Periods" (Keynote). Annual conference of The Coordinating Committee for the Comparative History of Literatures in European Languages Series (CHLEL): 'Period Shapers in Literary History', org. Dirk van Hulle. University of Antwerp, 24.5.2018.
Courses
Regular courses in the Master of Science "Digital Humanities"
Regular courses in the Bachelor of Science "Sprache, Technologie und Medien" (STeM), Digital Humanities-Track