The printing works Reulandt
A Research Project on Early Modern Media History in the Trier-Luxembourg Area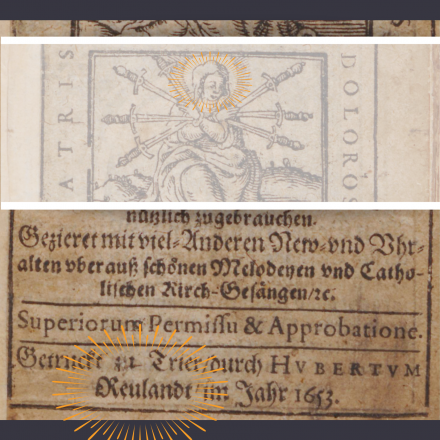 The subject of a joint research project of the University of Trier and the Scientific Library of the City of Trier is the Reulandt printing works, which was founded in the 17th century and existed until the end of the 18th century. The manufactory was founded in Luxembourg in 1618 by Hubert Reulandt (1590-1661) and moved to Trier in 1640.
The aim of the project, which is headed by Professor Dr. Claudine Moulin (University of Trier, Department II/ German Studies and Trier Center for Digital Humanities) and Prof. Dr. Michael Embach (Scientific Library of the City of Trier), is to evaluate the overall production of the printing works and to assess it with regard to its significance for the intellectual, political and spiritual life of the Trier-Luxembourg region. Among other things, the project addresses the question of the professional status of early modern printers in the Grande Région against the background of complex and multi-layered political, educational, linguistic, and cultural factors. In particular, the project aims to uncover medial identity and communication spaces in the corpus of Reulandt's prints and to explore the economic positioning and thematic orientation of the manufactory in the context of changing intellectual currents, owners, and addressees. At the same time, this will contribute to the mapping of the intellectual topography of the Trier-Luxembourg area in the 17th and 18th centuries.
As a first step in the implementation of the project, the digitization and indexing of the corpus of Reulandt's prints of the 17th and 18th centuries, which is available in the Scientific Library of the City of Trier and comprises more than 400 individual titles, is planned. The indexing model will first be tested on the basis of the 17th century prints. In a second step, it is planned to selectively expand the digital documentation of the Reulandt Offizin to include copies from other libraries in order to achieve the most complete coverage and digitization possible of all titles printed in the Reulandt Offizin in Luxembourg and Trier.
The research project is part of a cooperation agreement between the University of Trier and the Scientific Library of the City of Trier, the goal of which is to safeguard the cultural heritage in the field of original historical records through digitization and at the same time to create improved opportunities for its research.
copyright: Außerlesenes Bett- Betracht und Gesang Buchlein von den sieben farnembsten Schmertzen Mariae Matris Dolorosae : in allen Processionen durchs Jahr, fürnemblich aber auff der Pilgerfahrt nacher Eberhards Clausen zu unser L. Frawen Miraculoser H. Capeln gar nützlich zu gebrauchen ; gezieret mit viel anderen New- und Uhralten uber auss schönen Melodeyen und Catholischen Kirch-Gesängen etc., Erschienen Trier : Reulandt, 1653 im Besitz der Stadtbibliothek Trier.