Lessico Etimologico Italiano
Retrospective Digitization and Electronic Publication of the LEI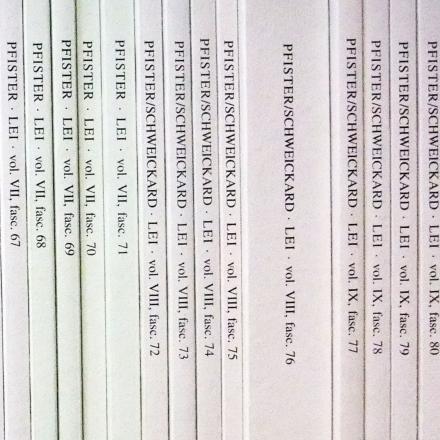 The Lessico Etimologico Italiano (LEI) is the first basic dictionary that systematically examines the written Italian language and its dialects. The aim of the cooperation project was to retro-digitize volumes 1 to 8 using the double-keying process and to mark them in XML in accordance with the TEI guidelines. Volume 9 in Word format was also marked in XML. Finally, these 9 volumes (A to Calidus) were published online.
Each word article includes a material section and a comment that takes into account etymological, linguistic-historical and linguistic-geographical criteria, followed by bibliographical references and notes. The systematic connection with Middle Latin and the other, also medieval, comparative languages ​​of Romania can also result in a new basis for a new comparative dictionary of all Romance languages. In addition to the already completed French Etymological Dictionary, the LEI is regarded as the most comprehensive basic dictionary of Romania and aims to create a new basis for Romance lexicography by taking into account area linguistics and language history.
As before, the other volumes of the LEI (Vol. 10ff.) Will initially be published in an integral print version, which will only be posted on the Internet after a certain period of time. The moving wall (blocking period) between the publication of the print version and its provision on the Internet was set at three years in coordination with Reichert-Verlag. From 2007 to 2014 the "Lessico Etimologico Italiano" was also available on the Internet as an online dictionary (letters A and B).