Digital Launch of "Fontane Chronik Digital" and the "Fontane Briefdatenbank"
Letters and Chronicle of Theodor Fontane Available Digitally
28.04.2021 | Events, Project News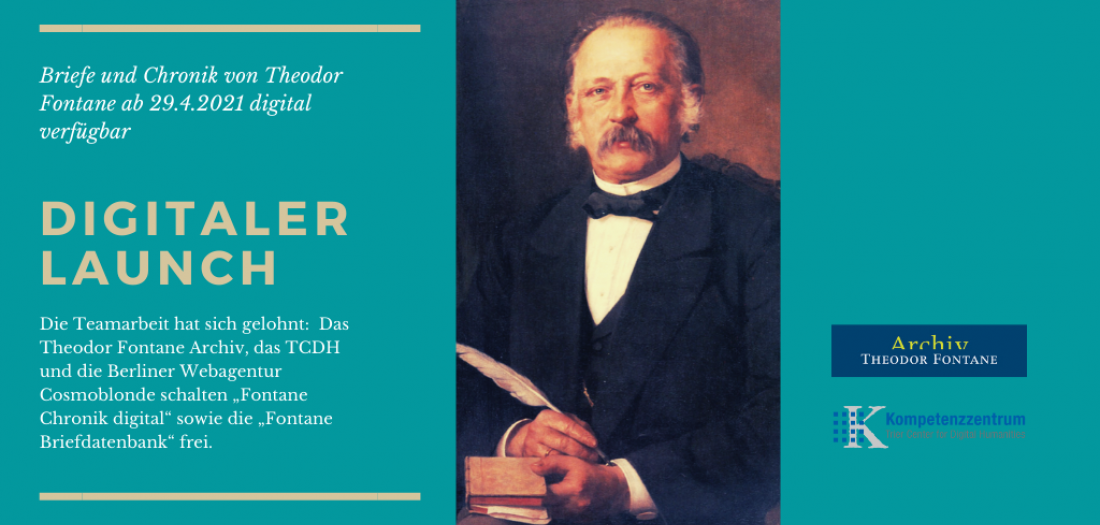 As part of the event series "Neues Altes von Fontane" at the Theodor Fontane Archive of the University of Potsdam, the launch of the two new digital services "Fontane Chronik digital" and the "Fontane Briefdatenbank" will take place on Thursday, April 29, 2021 at 7:00 pm [Zoom, registration required]. Both services were technically implemented with the help of the Trier Center for Digital Humanities (TCDH).
To enable the Potsdam scholars´ research, Dr. Matthias Bremm set up the Trier research tool "FuD" as a virtual research environment. The data collected in this way was indexed using Elasticsearch, and the resulting search index was subsequently integrated into the website by the Berlin web agency Cosmoblonde.
Since 2019, the research partners have been working towards the goal of a contemporary, user-friendly as well as digitally searchable online presentation of Fontante's digitized manuscripts, their transcriptions, letters as well as the chronicle.

Technical Expertise for the Preparation of Digital Letter Data
In the course of the two related research projects, the TCDH team analyzed and systematically modeled the data of the "Fontane Chronicle" on the basis of the print data, which were available as weakly structured BITS/XML data at the beginning of the project. In the digital infrastructure of the CMS, corresponding data models were first implemented, i.e. data masks and indices were developed for the storage and editing of the data. After the digital infrastructure had been expanded accordingly and the data had been integrated, the Berlin web developers were able to develop a web-based frontend with differentiated search and display options. This offers researchers and the general public a digital view of the work of Theodor Fontane from Brandenburg.
The digital offerings will be officially made available on April 29, 2021.
---
Link: Link to the article in the Fontane archive