Articles from the Trier dictionary network in the hands-on exhibition "Happiness. About collecting and sharing"
19.01.2022 | General, Events, Academic exchange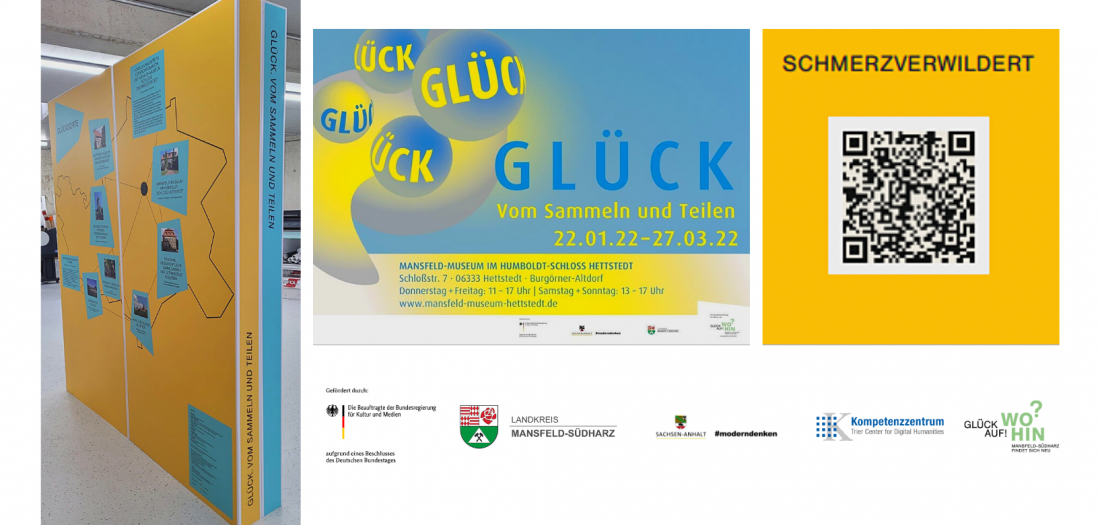 On January 22, 2022, the exhibition "Happiness. On Collecting and Sharing" will open digitally at the Mansfeld Museum in Hettstedt's Humboldt Castle. The exhibition can then be discovered until March 27, 2022, under the regulations currently in force.
With exhibits of happiness, multimedia portraits and an unusual design, the exhibition meets the audience and at the same time invites them to interactively deal with the topic of happiness themselves. Stimulating mediation offers for all age groups complement the museum's engagement with collecting and sharing happiness. At the MuseumsHAUS of the Gottfried-August-Bürger-Museum, an acrylic glass was mounted as part of the exhibition, in which a selection of dictionary articles from the Trier dictionary network with 2*2 cm QR codes were printed on loose-leaf slips, e.g. donnerfroh, Haderlump, querfeldein. All under the thematic heading: Bürger's fantastic vocabulary in a jar. These "two-dimensional, electronically readable codes composed of dots to form a square", as the DUDEN describes them, have become part of our everyday life and are also popular with exhibition makers due to their practical usability.
The Mansfeld Museum in Hettstedt Castle received technical support from the Trier Center for Digital Humanities at the University of Trier for the implementation of the QR codes in the interactive exhibition.
What are the QR codes in the dictionary network all about?
In the past, the TCDH has repeatedly received requests from educational institutions and museums to use the Trier dictionary network as part of exhibitions. In our own exhibition "2018 - 20 Years of TCDH - 180 Years of the German Dictionary", we used QR codes on exhibits ourselves, as they allow interactive and quick access to the word articles of the dictionary network. Now, QR codes are available to the general public and the professional community in the portal of the dictionary network, which can be accessed via the citation recommendations for the respective articles. This new feature can be used for the 20 dictionaries and reference works that were created as part of the digitization projects carried out at the TCDH. This new feature, integrated by Dr. Thomas Burch, is just one of numerous further developments to the Trier research tool.
We are curious to see in which further exhibition formats the abundance and diversity of the dictionary entries will be used by further exhibition makers.
---
Link: Projekthomepage, Exhibition opening event on you tube
---