Anniversary year 2018: Exhibition: 20180 - 20 years Trier Center for Digital Humanities
2018 - 20 years of TCDH - 180 years of the German dictionary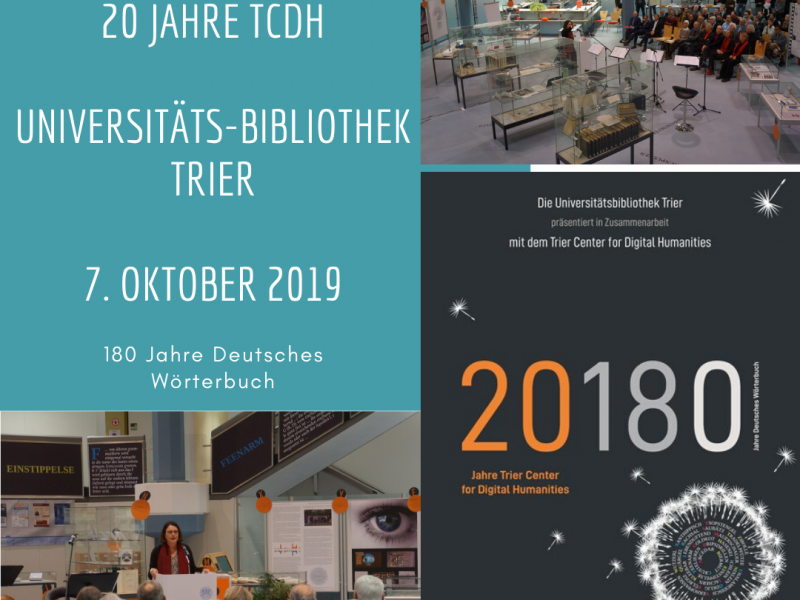 Date:
13.12.2018 bis 03.02.2019
Place:
University library, Trier
Categories:
Exhibition
"The eight. Watch out, it's coming! "So Sven Murrmann's" Discovery of the Month "in December 2017 with regard to the historical events that will be celebrating the fiftieth, seventieth and hundredth anniversary of 2018. The eight has it all - on a large as well as on a small scale.
In 1998, 20 years ago, the Trier Center for Digital Humanities (TCDH) was founded at the University of Trier as a competence center for electronic cataloging and publication processes in the humanities. In 1838, 180 years ago, Jacob and Wilhelm Grimm began working on the German dictionary, which was the brothers' most effective enterprise alongside children's and household tales. The history of the TCDH began with the digitization and electronic publication of this weighty dictionary, which covers more than 300,000 keywords in 84 kilograms of book. Since then, the dictionary and the center have been closely interwoven. Reason to celebrate the 180th birthday of the first one and the 20th birthday of the other with a joint exhibition.
26 stations for every letter of the alphabet offer insights into the changeful biography of the dictionary and the development of the TCDH, which, even if it is true to the "Grimm" to this day, has developed further focuses in the field of digital humanities and cultural studies. The exhibition also shows how the humanities and IT sciences work together, learn from one another and break new ground together.
At the opening on December 13, 2018 at 6.15 p.m., the scientific directors of the Trier Center for Digital Humanities, Professor Claudine Moulin and Professor Christof Schöch, will introduce the theme of the exhibition. Then the Grimm Quartet from Kassel will undertake a poetic and musical journey through the letter A in Jacob and Wilhelm Grimm's German dictionary. Singing about "Ach and Weh" and chanting the diverse rhythms of the letter columns from "Aal" to "Azur", Sabine Wackernagel, Christine Weghoff, Friedrich Block and Olaf Pyras will bring the first letter of the alphabet to life.
---