Opening of the interactive exhibition "Happiness. On collecting and sharing"
Articles of the Trier Dictionary Network incorporated into the exhibition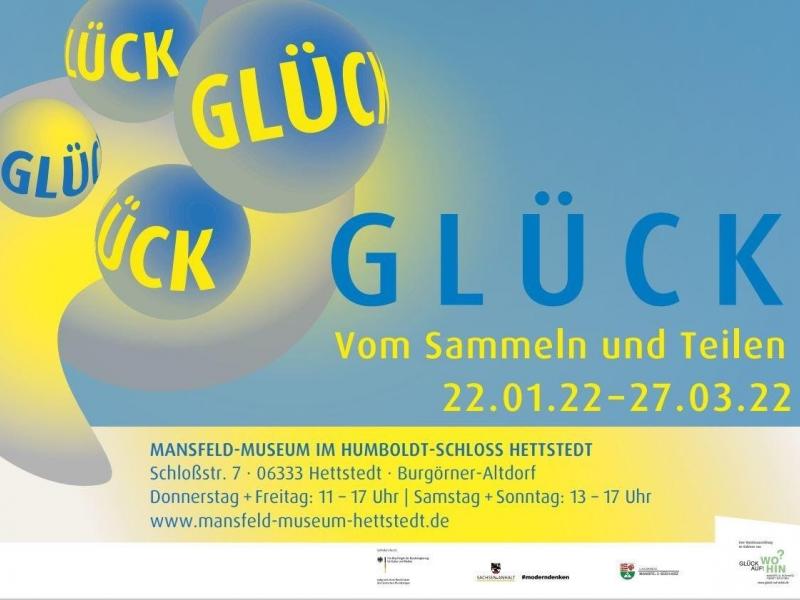 Date:
22.01.2022 bis 27.03.2022
Place:
Mansfeld-Museum im Humboldt-Schloss Hettstedt,
Schloßstraße 7, 06333 Hettstedt OT Burgörner-Altdorf
Opening hours:
Thursday/Friday: 11–17 h | Saturday/Sunday: 13–17 h
Categories:
Exhibition
Happiness - with this we take up the theme of our project name, question it and enter into an exchange with the museums of the district as well as future visitors. With exhibits of happiness, multimedia portraits and an unusual design, the exhibition encounters the public and at the same time invites them to interactively deal with the topic of happiness themselves. Stimulating educational offerings for all age groups complement the museum's exploration of collecting and sharing happiness.
The exhibition travels to other cultural institutions in the district. The stations of the exhibition in 2022 and 2023 are:
April – June 2022: Spengler Museum, Sangerhausen
July – September 2022: Allstedt castle and palace
October – December 2022: Adventure Center Mining Röhrigschacht Wettelrode
January – March 2023: Kunsthof Liwet, Molmerswende
"Happiness. On Collecting and Sharing" is a sub-project of "Glück auf! Where to? The Mansfeld-Südharz region finds itself anew" (in short: "Glück auf! Wohin?"). The cultural project is part of the regional museum association Erlebniswelt Museen e. V. of the Mansfeld-Südharz district. The project "Glück auf! Wohin?" project is funded by the Federal Government Commissioner for Culture and the Media, the state of Saxony-Anhalt and the Mansfeld-Südharz district.
---