Online-Workshop: Linked Open Data for Digital Editions and Text Collections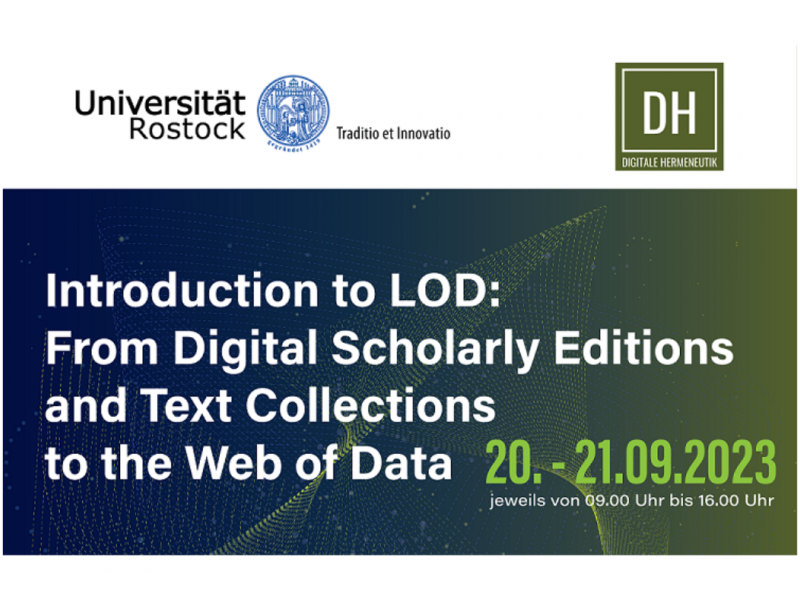 Date:
20.09.2023 bis 21.09.2023
Place:
Wednesday, September 20, 2023, & Thursday, September 21, 2023
From 09:00 AM to 04:00 PM each day
Speakers: Christopher Pollin (University of Graz), Julia Röttgermann (University of Trier), Johanna Konstanciak (University of Trier), Tinghui Duan (University of Trier).
The workshop will be conducted in English.
Participation in the workshop is free of charge. Please register by September 18th by emailing phf.dh [at] uni-rostock.de (phf[dot]dh[at]uni-rostock[dot]de). Zoom access details will be provided after registration.
Categories:
Workshop
What is LOD and why is it important for digital editions and text corpora? 
Linked Open Data (LOD) is a set of procedures and rules for publishing openly available data, and enabling their connection with other data from different sources and formats. These rules can also be applied to the structuring of available information in digital editions and corpora so that this information can be linked together and made easily searchable. 
The workshop "Introduction to LOD: From Digital Scholarly Editions and Text Collections to the Web of Data" offers an introduction to the concepts and standards of LOD, combined with the application of this technology to digital editions and literary corpora. The workshop is organized by the Junior Professorship for Digital Humanities and the research focus "Digital Hermeneutics" of the Department "Knowledge – Culture – Transformation" at the University of Rostock. 
In the first part of the workshop on September 20th, Christopher Pollin from the University of Graz will present basic concepts of Linked Open Data. Their relevance and application for digital editions will be discussed and put into practice, using historical account books as an example. On September 21st, Julia Röttgermann, Johanna Konstanciak and Tinghui Duan from the University of Trier will give a practical introduction to LOD using data from Wikidata and from the project "Mining and Modeling Text" (MiMoText). The relationships between personal data (authors), location data (places of action and publication of the works, and partly historical place names), time data (date of first publication) and topics will be explored and introduced using the SPARQL query language. 
Participants should have a basic knowledge of XML and TEI (Text Encoding Initiative). 
It is also necessary to have an editor of rdf data for the hands-on part of the workshop. We recommend Visual Studio Code (https://code.visualstudio.com/) with two extensions: RDF Sketch, Stardog RDF Grammars. Participation in the workshop is free of charge.
20.09.2023, 9:00-16:00  
Semantic Web, Linked Open Data, Digital Editions 
Trainer: Christopher Pollin (University of Graz) 
– Introduction to Semantic Web, Linked Data and Web of Data 
– RDF – Resource Description Framework 
– RDFS 
– Why Linked Open Data for digital editions? 
– Ontologies and digital editions 
21.09.2023,  9:00-16:00 
Publishing and Querying Linked Open Data – Showcase MiMoText and Wikidata 
Trainers: Julia Röttgermann (University of Trier), Johanna Konstanciak (University of Trier), Tinghui Duan (University of Trier) 
– Introduction to the project "Mining and Modeling Text" (MiMoText) 
– Introduction to Wikibase as infrastructure 
– Querying MiMoTextBase 
– Querying Wikidata 
– Federated Queries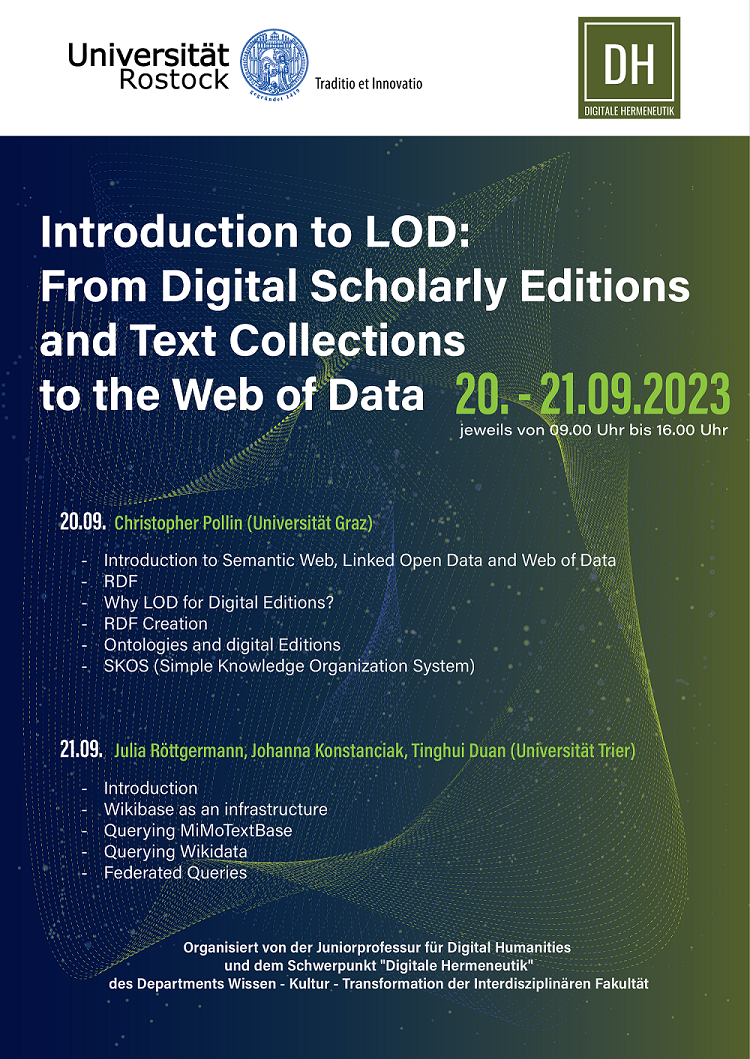 ---