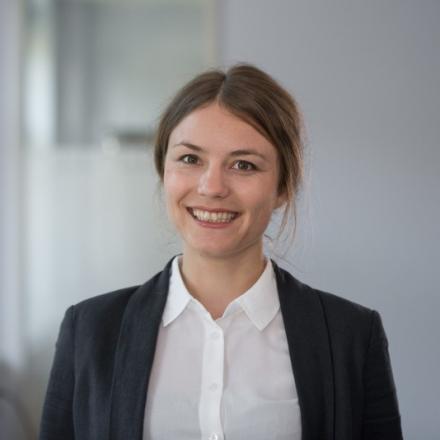 E-mail: roettger [at] uni-trier.de
Phone: +49 651 201-3120
Fax: +49 651 201-3589
Room: DM 317
Office Hours: after appointment
Julia Röttgermann
member of accademic staff
Research assistant in "Mining and Modeling Text", responsible in the project for the corpus of primary texts. Her research focuses on the automatic collection of information relevant to literary history from full texts, using the example of eighteenth-century French novels, Linked Open Data and text mining methods such as topic modeling, NER and sentiment analysis.
---
Curriculum Vitae
Degree in French Studies at the Freie Universität Berlin and Université de Provence with a thesis on Yasmina Reza
2010 - 2014: head of the digital department of a production company for ARTE 
2015 - 2018: freelancer in the fields of translation, website creation, online seeding and digital concepts as well as member of staff at an association in Berlin that counts among its clients Microsoft Germany, Microsoft Switzerland, BMBF and Duden Institute (working at the interface of education and digitization)
Since 2018: research assistant at the chair of Prof. Dr. Schöch in the field of Digital Humanities
Committee work, research groups and memberships
Member of the DhD
Talks
Julia Röttgermann, Anne Klee: "Nuit, correspondance,sentiment" - Topic Modeling auf einem Korpus von französischen Romanen 1750-1800, Deutscher Romanistentag, Sektion Digital, global, transdisziplinär: Impulse für eine transdisziplinäre Digitale Romanistik, 5.10.2021.
Julia Röttgermann: "Forschungsdatenmanagement als Bestandteil der Hochschullehre in der Culture Community", NFDI4Culture, 17.-18.06.2021.
Julia Röttgermann: "Digitaler Zotero-Workshop", CLARIAH-DE, 27.5.2021.
Katharina Dietz, Katharina Erler-Fridgen, Maria Hinzmann, Anne Klee, Julia Röttgermann, Moritz Steffes und Christof Schöch: MiMoText in sechs Stationen, Videovortrag und Dialogformat im Rahmen der vDhD 2021, 24.3.2021.
Julia Röttgermann: "Digitale Textkodierung mit TEI", Workshop-Leitung im Rahmen des CAS-Studiengangs Datenmanagement und Informationstechnologien, Zentralbibliothek Zürich, 5.3.2021.
Julia Röttgermann:  "Mining and Modeling Text - An exploration of sentiments in French Novels 1750-1800", Sentiment Analysis in Literary Studies, Centre for Information Modelling – Austrian Centre for Digital Humanities & Institute for Romance Studies, University of Graz, 19.2.2021.
Julia Röttgermann: "Fachliteratur effizient mit Zotero verwalten und nutzen", Workshop zum Forschungsdatenmanagement in der Romanistik, Fachinformationsdienst Romanistik & AG Digitale Romanistik, 26.11.2020.
Julia Röttgermann: "Bibliography Management: Three ways to build a bibliography when writing a paper using Zotero", Workshop Scholarly Writing and Publishing Today, Trier Center for Digital Humanities" (TCDH, University of Trier), Center for Contemporary and Digital History (C2DH, University of Luxemburg) and DARIAH-DE (Digital Research Infrastructure for the Arts and Humanities), 31.1.2020.
Courses
SoSe 2021: Digitale Objekte: Edition und Publikation
WiSe 2020/2021: Projektseminar/Praxisprojekt
SoSe 2020: Digitale Objekte: Edition und Publikation
WiSe 2019/2020: Digitale Wissensproduktion