Launch event of the website of the Multimedia Yasna project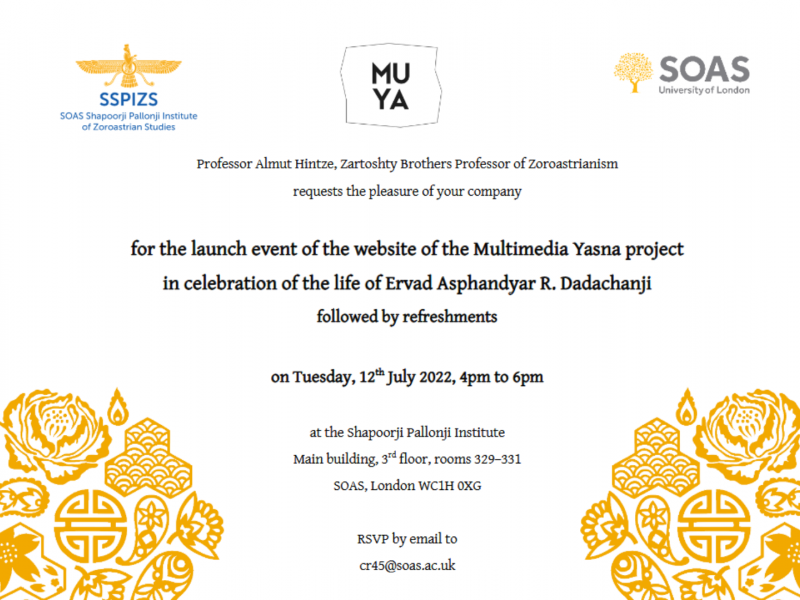 Date:
12.07.2022
Place:
on Tuesday, 12 th July 2022, 4pm to 6pm

online and at the Shapoorji Pallonji Institute
Main building, 3rd floor, rooms 329–331
SOAS, London WC1H 0XG
 
Categories:
Event
One of the world's oldest religions is being explored using digital methods. The TCDH supports the researchers at SOAS London in editing the  "Avesta" as the most important primary source of Zoroastrianism in a total of seven critical editions.
Combining models and methods from digital humanities, philology, and linguistics, the project produced an interactive film of the Yasna ritual with subtitles. The online platform containing transcribed manuscripts and editorial tools, as well as print editions, translations, and commentaries of the Avestic Yasna, officially opens today. It contains information previously reserved for students of Iranian philology and practicing Zoroastrians, and is now being made available to a worldwide audience through the digital humanities.
Professor Almut Hintze, Zartoshty Brothers Professor of Zoroastrianism requests the pleasure of your company for the launch event of the website of the Multimedia Yasna project in celebration of the life of Ervad Asphandyar R. Dadachanji.
---