Reinforcement in research and teaching
Dr. Susanne Kabatnik, the new academy professor in the field of "Digital Lexicography" at the University of Trier, in an interview with the Trier Center for Digital Humanities
13.02.2023 | General, Press Releases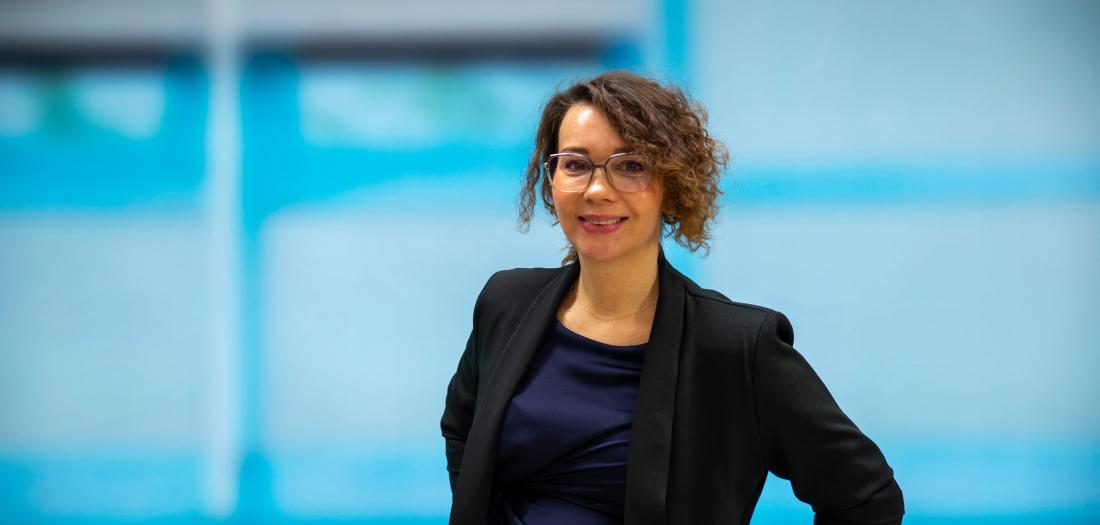 TCDH: Dr. Kabatnik, you moved from the University of Greifswald to the newly established position of Assistant Professor "Digital Lexicography" at the University of Trier on November 1, 2022. What attracted you to the position?
Jun.-Prof. Dr Susanne Kabatnik: There are many reasons why I applied for the junior professorship in digital lexicography. On the one hand, the Trier location specifically appealed to me as a university with top-class staff and expertise. Due to its geographical location in the middle of Europe, the border triangle offers many opportunities for cooperation with universities in the neighboring countries France, Luxembourg, but also Belgium, the Netherlands, Switzerland and Italy. What was decisive for me, however, was the subject orientation of the university, i.e. the linking of German studies, especially linguistics, with the digital humanities, which work on groundbreaking and innovative research projects in the field of digital lexicography, among other things. Ultimately, my own research profile, which matched the call for applications, prompted me to apply, i.e. my research focus on corpus linguistics and my investigations of vocabulary, as well as internet linguistics with a focus on social media and messenger-based communication.
TCDH: In 2021, 21 academy professorships were financed from funds from the academy program – the joint humanities and social science long-term research program of the German science academies. Your academy professorship now gives you the opportunity to gain further academic qualifications. Where do you see your links to the academy program?
Jun.-Prof. Dr Susanne Kabatnik: In my research I would like to focus more deeply on the vocabulary of epidemics and diseases. There are many points of contact with the academy program, for example in relation to the Middle High German dictionary. Because in Middle High German there are lexemes that refer to diseases, epidemics or pandemics, such as the plague or cholera. Also of interest is the Digital Academy: Digital Humanities at the Academy of Sciences and Literature Mainz with its different formats and opportunities for participation. Specifically, I also take care of the coordination of the Snapshot internship, in which students and doctoral candidates from the University of Trier do an internship for about two weeks at the Academy of Sciences and Literature | Mainz can complete.
TCDH: You completed your doctorate in 2019 at the University of Mannheim on the topic: "Leistungen von Funktionsverbgefügen im Text – eine korpuslinguistische Untersuchung am Beispiel von deutschen und polnischen Wikipedia-Artikeln". Can you tell us more about your career and your other areas of research?
Jun.-Prof. Dr Susanne Kabatnik: After studying German and Slavic studies in Heidelberg, I analyzed the use of language in Polish rap texts for my thesis. For me, the attraction of linguistics is the variety of exciting, everyday and meaningful research topics. This prompted me to further qualify myself scientifically. My doctorate at the University of Mannheim dealt with the performance of functional verb structures in German and Polish Wikipedia articles. For this I developed a research concept that combines different linguistic levels and (sub-)disciplines, such as text linguistics and (valence) grammar. During this time, I was scientifically supported at the Chair for German Linguistics and at the Leibniz Institute for the German Language by Prof. Dr. Konstanze Marx and Prof. Dr. Thomas Spranz-Fogasy. My three-year PostDoc phase at the University of Greifswald enabled me to carry out further research in the field of German linguistics with a focus on medical communication, especially with a view to interaction in psychotherapy, and develop skills in corpus linguistics (e.g. by generating social media corpora to deepen using R). As part of the junior professorship, there is now the opportunity to pass on these skills to the students and to generate social media corpora, for example on epidemiological medical vocabulary, and to design dictionary articles or digital dictionaries based on them.
TCDH: What tasks have you taken on with the junior professorship and over what period does it run?
Jun.-Prof. Dr Susanne Kabatnik: For the next six years, I took on a variety of tasks in research and teaching. In concrete terms, this means that I work on and supervise various research projects and lead seminars, exercises and lectures in the field of digital lexicography. In addition, I will carry out research projects together with other external and internal cooperation partners. Another part of my work is, of course, to gain experience in academic self-administration, in actively participating in commissions and committees. The coordination of the Snapshot internship in cooperation with the Academy of Sciences and Literature in Mainz, in which students can complete an internship at the academy, has already started. I would also like to focus and strengthen scientific communication in the field of German linguistics and the digital humanities, for example by publishing my own and student research work.
TCDH: Can you give us an idea of how you plan to develop your research field in Trier?
Jun.-Prof. Dr Susanne Kabatnik: Various investigations and projects are planned. It is very important to me that my two main research areas are interlinked, namely medical communication with digital lexicography. Concretely planned and ongoing research is in the areas of "Epidemiological Vocabulary in Social Networks", "Digital Dictionary of Depression" and "Pandemic Vocabulary in Digital Dictionaries". Equally interesting for me is the field of dictionary use research, for which I can also imagine (inter)national cooperation.
TCDH: Which courses can students of Digital Humanities and beyond look forward to in the coming years? Do you already have ideas?
Jun.-Prof. Dr Susanne Kabatnik: I am an advocate of practical courses, so I plan to closely link my research with teaching at the University of Trier for the students. In the next six years I will offer different teaching formats and teaching-learning scenarios. For example, an introduction to digital lexicography is planned, as well as seminars and exercises in which the topics "digital dictionary of depression" and "pandemic vocabulary in digital dictionaries" will be worked on and, if necessary, dictionary articles will also be created. I am currently leading a seminar and exercise on epidemiological vocabulary in social networks. The students deal with the lexicon that is needed in relation to different diseases with a larger spatial spread. The aim of the seminar is to prepare an Internet dictionary for various epidemics and, if necessary, to correct or adapt existing entries in digital dictionaries through observed vocabulary changes. Methodologically, the students' investigations are guided by the method inventory of corpus linguistics - a linguistic sub-discipline in which computer-aided methods for data acquisition, search and analysis are used. The data basis for the student analyzes are postings from the social networks Twitter and Tumblr.
TCDH: Thanks for your time.
The interview was conducted by Henrike Sievers (TCDH).
---
Link: Pressemitteilung der Akademie der Wissenschaften und der Literatur | Mainz, Informationen der Universität Trier