News from the #dictionarynetwork!
15.02.2022 | General, Project News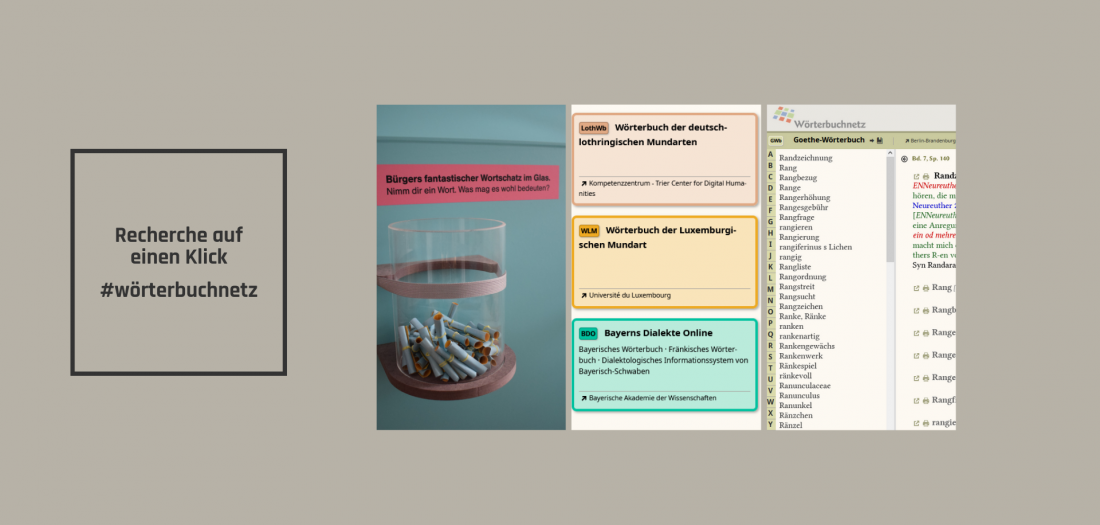 QR codes for quick citation of dictionary articles
In the past, the TCDH repeatedly received requests from educational institutions and museums to use the Trier dictionary network in the context of exhibitions. In our own exhibition "2018 - 20 Years of TCDH - 180 Years of the German Dictionary", we used QR codes on exhibits ourselves, as they allow interactive and quick access to the entries of the dictionary network. Now, QR codes are available to all users in the dictionary network portal, which can be accessed via the citation recommendations for the respective articles. This new feature can be used with the 20 dictionaries and reference works that were created as part of the digitization projects carried out at TCDH.

Platform for Dialect Research of the Bavarian Academy of Sciences and Humanities linked together
With the Bavarian Dictionary (BWB), the Franconian Dictionary (FWB) and the Dialectological Information System of Bavarian Swabia (DIBS), which can be accessed together on the platform "Bavaria's Dialects Online", further important research environments for dialect research were linked to the reference works of the dictionary network and made accessible via the cross-dictionary search function. In the spirit of the Open Data principle, bidirectional integration was achieved by providing open data interfaces.
Further deliveries of the Goethe dictionary accessible online
Since the beginning of 2022, further deliveries of the Goethe dictionary have been available in the Trier dictionary network. In addition to the already published components, it has been extended to the first section of the 7th volume. Thus, all word articles up to the keyword "Randzeichnung" are digitally accessible. The Goethe Dictionary is a long-term project funded by the Academies Program and supervised by three German academies of science - the Berlin-Brandenburg Academy, the Heidelberg Academy and the Göttingen Academy of Sciences and Humanities.
---