Immerse yourself in the writing rooms of that time!
Project film as well as a new version of the "Johann Caspar Lavater Online Briefedition" available
17.04.2023 | General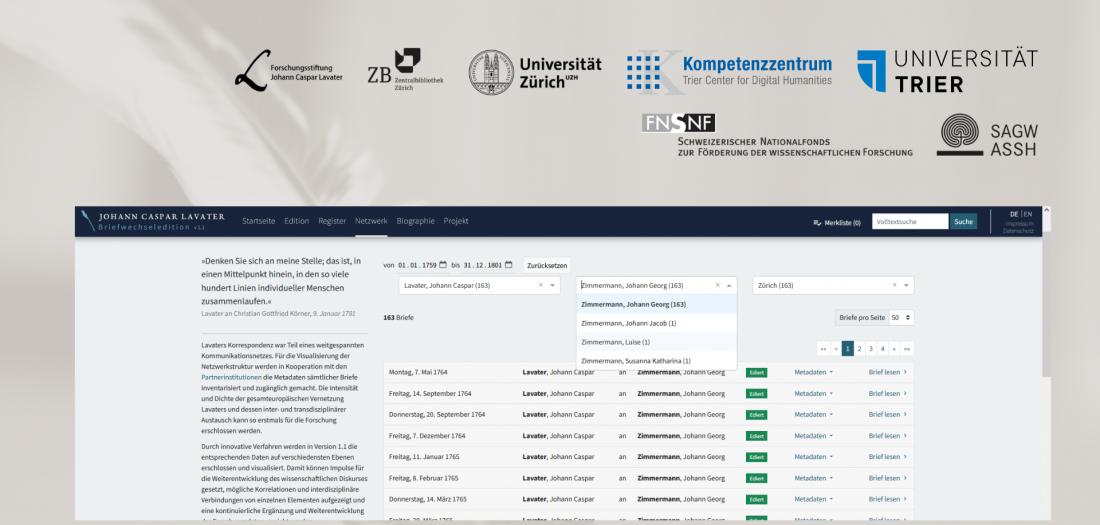 Version 1.1 of the "Johann Caspar Lavater Online Briefedition" was released by the developer team at TCDH (Radoslav Petkov, Michael Lambertz) on 15.04.2023 and is searchable at www.jclavater-briefwechsel.ch. This digital platform will provide further research materials and research opportunities - for researchers and for anyone interested in Johann Caspar Lavater's letter network.

Over 100 new transcriptions of letters from Lavater's correspondence are now available for digital research. They can delve even deeper under "Network," where they can now filter the letters specifically by addressee, sender, and place of dispatch.

The new project film of the online letter edition presents the origins, functions and possibilities of the research work in the digital space. Actor Fabian Krüger, who has already portrayed Johann Caspar Lavater in the two short films for the "Johann Caspar Lavater Collection", was recruited as the narrator for the film. You can watch the films here. Thanks to the cooperation of all project participants, Michael Lambertz (TCDH) was finally able to take over the video production, sound editing and score. Dive into the writing rooms of that time via the project film!
---