Trier Center for Digital Humanities team presents at "Digital Humanities 2022" conference
26.09.2022 | General, Events, Press Releases, Project News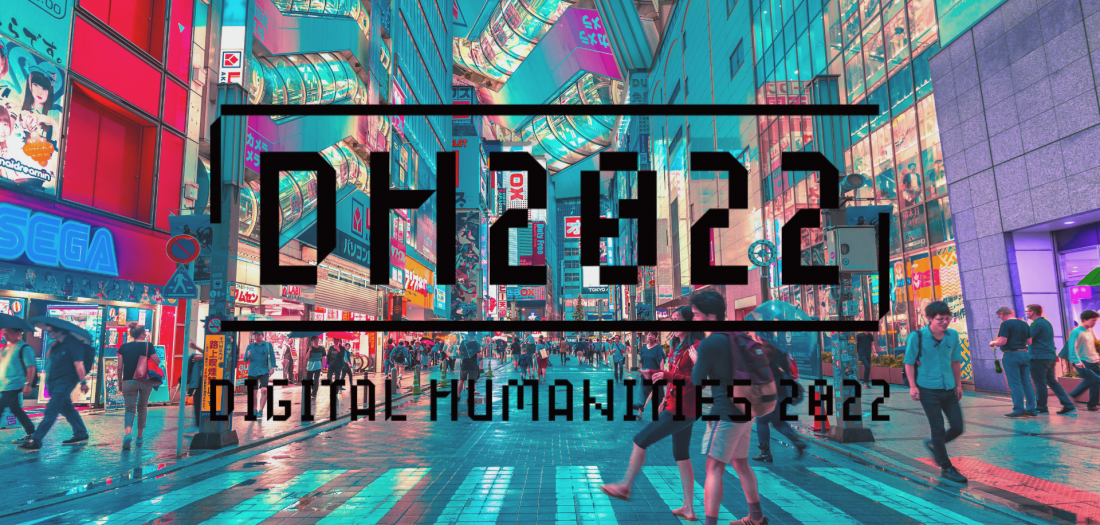 The opening keynote was held by Dr. Tarin Clanuwat, a senior research scientist at Google Brain based in Tokyo. She spoke about "The journey to make billions of Japanese historical documents accessible" through machine learning for Kuzushij recognition (cursive Japanese). 
On Tuesday afternoon, there was a meeting of the SIG LOD (Special Interest Group Linked Open Data) hosted by Kim Martin and Susan Brown, who want to revitalize the network. The MiMoText team had the opportunity to present the MiMoTextBase in a short demo and gained insight into other exciting Linked Open Data projects. 
On Thursday, 28 July, a panel grouping different Linked Open Data projects was held. In Machines Reading Maps: from text on maps to linked spatial data Katherine McDonough (The Alan Turing Institute) and Valeria Vitale (The Alan Turing Institute) from Machines Reading Maps presented an approach to explore information embedded in text on maps. Then Fabio Mariani (Leuphana University Lüneburg) held his presentation on Developing a Provenance Linked Open Data Management Platform, which focused on Linked Open Data in provenance studies.  
In the same panel, Julia Röttgermann (Trier Center for Digital Humanities) and Maria Hinzmann (Trier Center for Digital Humanities) presented results from the project Mining and Modeling text on Mining and Modeling Spaces and Places for Literary History as Linked Open Data.
Other than this session, the use of Wikidata and data modeling according to Linked Open Data standards were present in different sections of the conference. It became clear that the Linked Open Data paradigm is playing an increasingly important role in the Digital Humanities, but that challenges remain - for example, in terms of infrastructures and standards. 
The team of researchers from Trier University had an inspiring time at DH 2022. The presentation of MiMoText was not the only presentation from Trier University. The European infrastructure project CLS INFRA, with participation from the Trier Center for Digital
---