Foundation Celebration of the Heidelberg Centre for Digital Humanities
21.07.2023 | General, Events, Academic exchange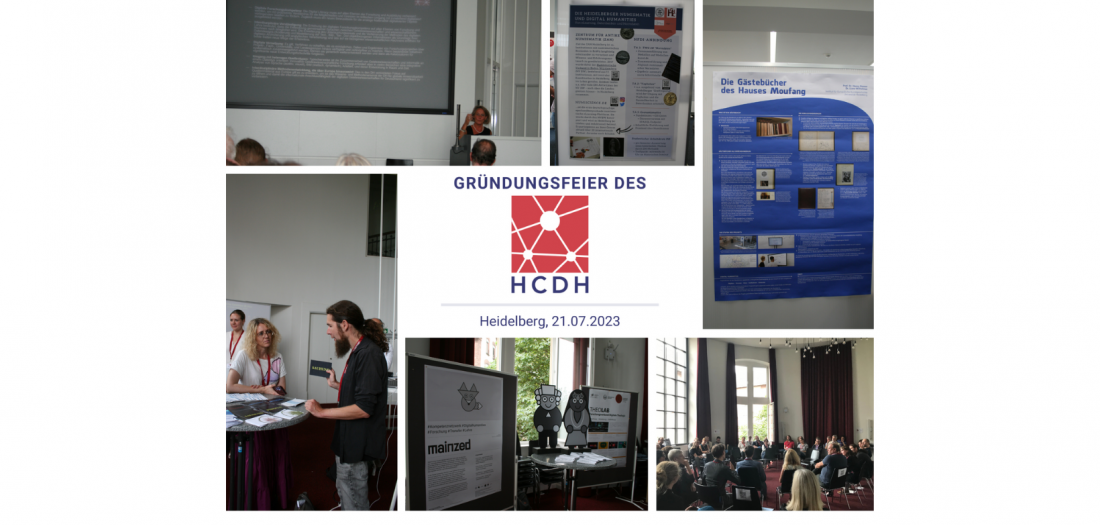 The Heidelberg Centre for Digital Humanities was inaugurated on July 21st 2023 in Heidelberg, at the premises of the Center for Transcultural Studies. The approximately 100 guests were welcomed by the director, Barbara Mittler, the Vice-Rector for Studies and Teaching, Anja Senz, and the spokesperson of the Research Council of the Field of Focus 3, Nikolas Jaspert. Subsequently, the Managing Director, Florian Nieser, greeted all external and Heidelberg participants and introduced the first core element of the event, a networking course taking place on two floors.
A total of 30 research projects and service partners introduced themselves – the opportunities to present their results, achievements, and perspectives were set up in a way that allowed ample time and space for discussions and exchanges on potential future collaborations. The concept of bringing research projects together with stands from service partners and external DH centers proved to be productive, leading to many promising dialogues that will unfold in further joint projects and events. A selection of exciting projects and key cooperation partners for the HCDH, along with some impressions from the networking course, were illustrated with a few images.
After existing research connections were strengthened and new plans for future collaborations and joint projects formed in the participants' minds, the event concluded with a roundtable discussion on the topic "DH in HD – Research Perspectives, Future Formats, and Key Questions," with representatives from the fields of Digital Linguistics (Bogdan Babych, Maria Becker, Ekkehard Felder, Sabine Tittel), Digital Heritage (Roland Prien), and Psycholinguistics (Johannes Gerwien). Florian Nieser moderated the discussion. Shortly after the discussion began, the circle of participants expanded to include the entire audience, leading to a constructive and critical exchange involving everyone present in the hall – highlighting the role of the community in DH, following the already dense and vibrant networking part. During this exchange, initial ideas for collaborative research formats were formulated, and conditions for interdisciplinary and dynamic teaching-learning formats were explored.
Subsequently, the foundation celebration continued until the evening at the premises of the Centre for Transcultural Studies.
The HCDH team expresses its gratitude to the guests for participating in the foundation celebration and their highly active and productive involvement. It was the best possible start, and they look forward to future collaborations!
---
Link: HCDH