Westphalian Dictionary on the Dictionary Network
90,000 articles document the Westphalian vocabulary.
09.11.2023 | General, Project News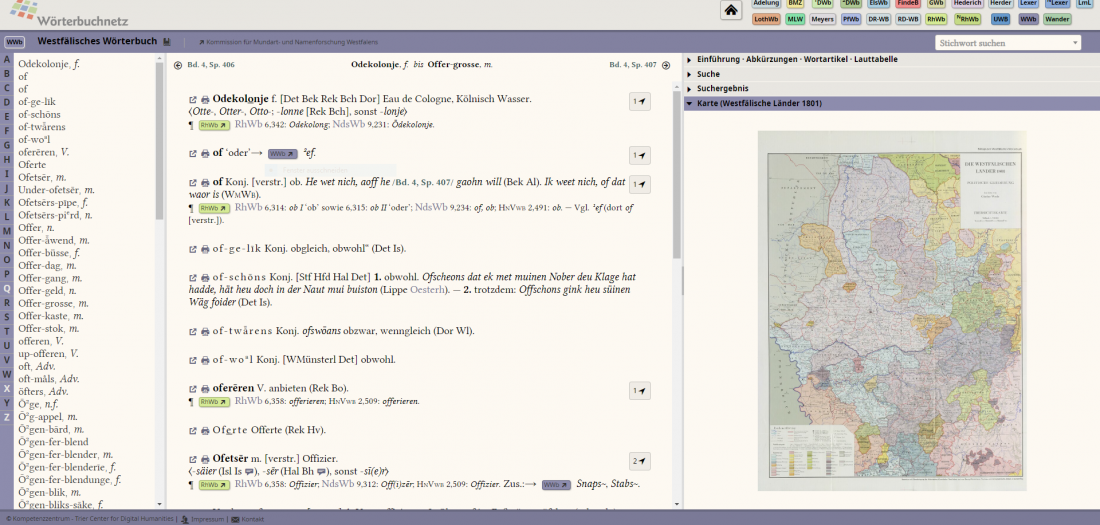 The Westphalian Dictionary is now available online on the portal woerterbuchnetz.de at http://www.woerterbuchnetz.de/. The platform, operated by the "Trier Center for Digital Humanities" (TCDH) at the University of Trier, provides access to over 30 scholarly dictionaries, including several regional dialect dictionaries. The five-volume Westphalian Dictionary, published by the Commission for Dialect and Name Research in Westphalia at the Regional Association of Westphalia-Lippe (LWL), is the first Low German dictionary accessible on the "Wörterbuchnetz." It is presented alongside its "sibling," the Rhenish Dictionary, with which it is digitally linked.
"The Westphalian Dictionary was completed in 2021, and we are delighted that it is available for free on the internet just two years later," said Dr. Markus Denkler, Managing Director of the LWL Commission. "The Westphalian Dictionary is a very welcome addition to our offerings," said Dr. Thomas Burch, Managing Director of TCDH and responsible for the development of the online platform. "In particular, the digital interconnection of dialect dictionaries opens up new promising possibilities for language research."
The Westphalian Dictionary comprises nearly 90,000 word entries. It documents the vocabulary of the dialects in the Westphalian-Lippe region of North Rhine-Westphalia. The dictionary provides detailed definitions, information about word distribution and variations, as well as numerous examples and idiomatic expressions.
---