Trier Digital Humanities Autumn School 2015 "Methodological Intersections"
Trier Digital Humanities Autumn School 2015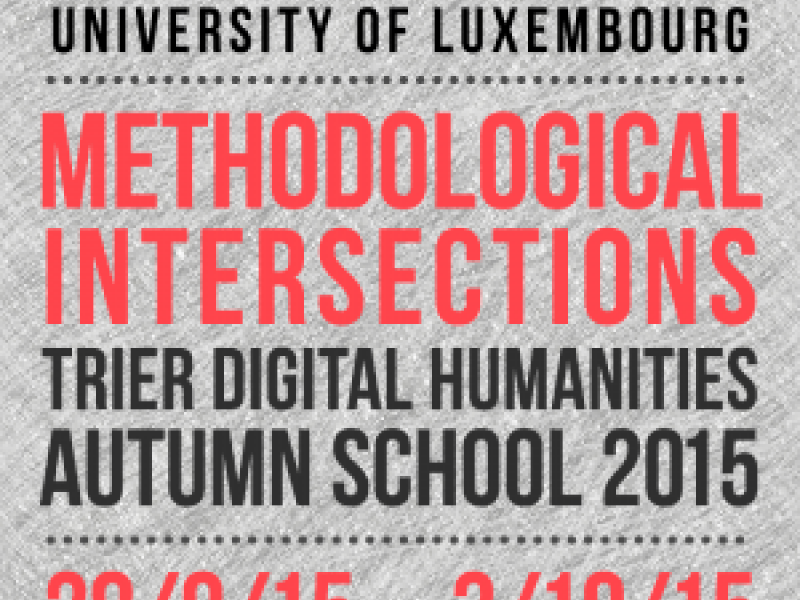 Date:
28.09.2015 bis 03.10.2015
Place:
Trier University: September 28 – October 1, 2015
University of Luxembourg: October 2 – 3, 2015
Categories:
Conference
A new addition to the International Digital Humanities Training Network, the 2015 Digital Humanities Autumn School hosted by Trier University and the University of Luxembourg offers an interdisciplinary introduction to and a methodological assessment of established and evolving DH practices, methods, and tools. The Autumn School will welcome more than twenty experts from research institutions in England, Germany, Ireland, Italy, Luxembourg, the Netherlands, Scotland, Sweden, and Switzerland, who represent a wide range of disciplines and academic profiles within the Digital Humanities.
During the past decades, digital technology has permeated the reading, writing, research, publication and storage platforms of humanities scholarship. As Jan Christoph Meister (2012) summarizes this phenomenon, the digital is becoming the lingua franca of the humanities. The digital humanities have emerged on the academic stage to practice all of the humanist inflections of this new lingua franca – from philology to the arts – by employing digital methods in a collaborative interdisciplinary framework. The harnessing of technology to develop novel methodological approaches to humanist research has been hailed by some members of the academic community for its galvanizing potential, but it has also raised important ideological concerns. The "Methodological Intersections" theme of the Autumn School aims to respond to recent calls for greater critical self-reflection and accountability both by digital humanists and by those scholars who remain skeptical of the contribution of digital methodologies to the qualitative questions of the humanities.
Trier University is home to one of the first Centers for Digital Humanities worldwide, with a strong tradition in digital methodologies for the humanities, sophisticated digital dictionaries and editions, collaborative project management, and software development, and offers a MSc in Digital Humanities. As a junior partner to the established center in Trier, Luxembourg University recently created a new chair in Digital History and is currently setting up a Center for Digital Humanities at the Faculty of Language and Literature, Humanities, Arts and Education. The Center aims to become a think tank for the reflection on the epistemological challenges of Digital Humanities (Digital Hermeneutics) and for developing compulsory "digital literacy" modules for all BA and MA programs at FLSHASE.
The Autumn School has been made possible by the support of the Volkswagen Foundation and is organized by Silvia Stoyanova (Trier University), Caroline Sporleder (Trier University), Andreas Fickers (University of Luxembourg), and Claudine Moulin (Trier University).
Local organizers: Anja Hennemann, Vera Hildenbrandt, Michael Lambertz, Anita-Mathilde Schrumpf, Daniel Zang
---