Experience digitalization!
The third nationwide Digitaltag awaits with many exciting actions!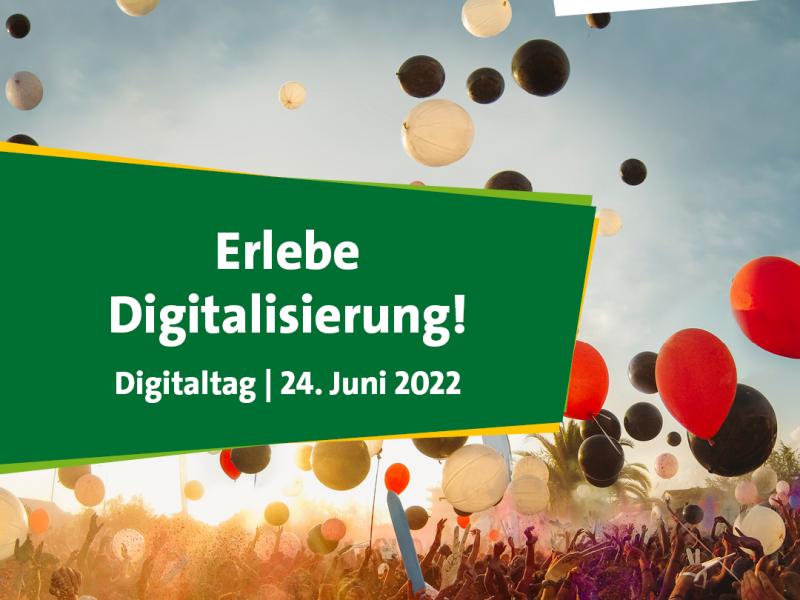 Date:
24.06.2022
Place:
nationwide in presence and digital
Categories:
Event
The Digital Day is supported by the "Digital for All" initiative, an alliance of 27 organizations from the fields of civil society, culture, science, business, welfare and the public sector. The declared goal is to promote digital participation. All people in Germany should be enabled to move confidently and self-determinedly in the digital world.
The Digital Day provides a platform for highlighting a wide variety of aspects of digitalization, discussing opportunities and challenges, and initiating a broad social dialog. The action day is intended to explain digitalization with numerous formats, make it tangible, show ways to digital participation and also create space for controversial debates. It is open to everyone to get involved with their own actions - whether private individuals, associations, companies or the public sector; whether online or locally on site. Possible formats include discussions, (online) seminars, live streams, advisory services, (virtual) tours, tutorials or hackathons. The individual activities are displayed on www.digitaltag.eu via an interactive action map and can be filtered by topic area or target group. In addition, the Digital Togetherness Award will be presented by a top-class jury in the categories "digital participation" and "digital engagement" as part of the Digital Day.
More information and background on the "Digital for All" initiative, as well as on Digital Day, the activities and opportunities for participation, can be found at www.digitaltag.eu.
---